The continuous COVID-19 pandemic has hit each industry hard, yet the one industry which has endured the greatest shot is the Oil and Gas industry. The spread of this virus has constrained many Oil and Gas companies globally to either stop or hinder their physical activities, which has affected production in both upstream and downstream operations.
The Oil and Gas industry was already facing trouble with the demand and supply imbalance before the Novel Coronavirus emergency. But, somehow, the industry has proven themselves as agile and compelling in exploring new as well as better approaches to deliver their products and services.
Since each industry is revamping its business operations, the Oil and Gas industry is even on the very edge of speeding up in its digital transformation.
"The digital transformation market in the Oil and Gas industry is poised to grow by USD 33.89 billion during 2019-2023, progressing at a CAGR of 16% during the forecast period."
This means a digital transformation in the Oil and Gas sector is indicating consistent development and CAGR will increase during the forecast period. The pandemic allowed the industry to launch forward-thinking, dynamic, and long-term strategies leading to a secure, reliable, and diversified system. So, before we jump on directly to the digital oilfield solutions, let's have a look at the challenges that the pandemic brings along with it.
The Challenges Faced by the Oil and Gas Industry
As the pandemic has forced industries to slow or stop physical operations, there is a great effect on the production in the upstream part. In the meantime, downstream operations are upgrading their frameworks and pushing to work even more deftly.
Here are the most common challenges that the industry is facing nowadays.
Oil Price Crash
One significant challenge of the COVID-19 in the downstream oil industry is the cost of oil. It has fallen essentially in a brief timeframe, taking billions off the stock costs of major Oil and Gas companies. The decrease in demand led to fears of oversupply for fuel and oil products, and a subsequent fall in costs.
Demand Declines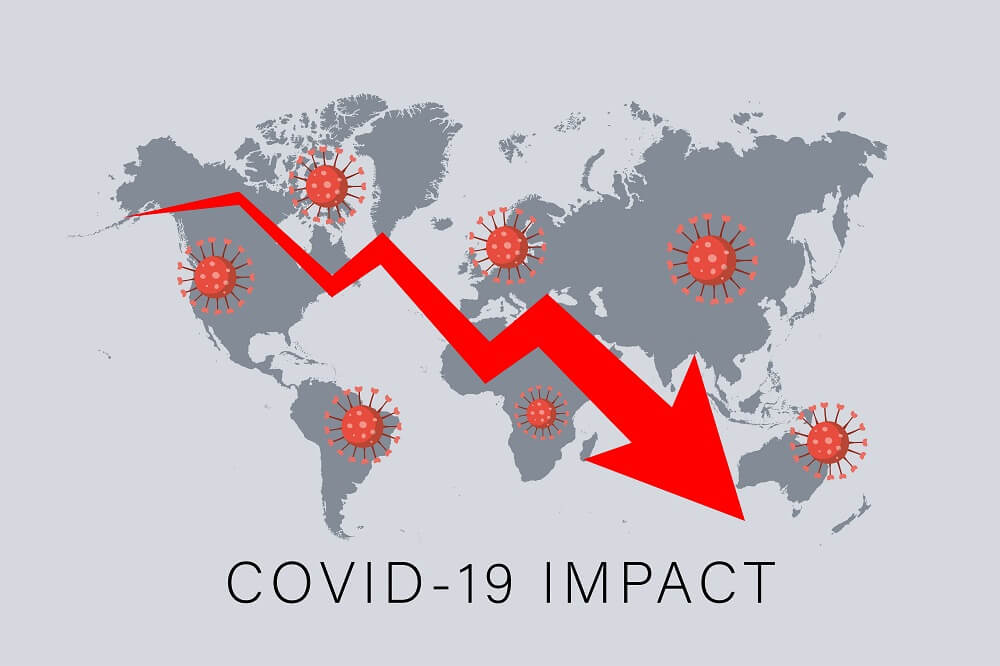 The oil price war started with a decline in demand and supply among different nations. As the virus spreads, governments anticipate similar impacts and encourage individuals to minimize social contact and travel internationally. The International Energy Agency predicted an annual decrease in demand of 90,000 barrels for each day, the largest fall in a decade.
Travel Limitations and Office Closures
Many big Oil & Gas companies announced plans to enforce travel restrictions. Oil and Gas organizations steadily analyze the marketplace and their business operations. They make acclimations to guarantee the security of their field workers. Explicit local travel rules were made confidential in consultation with associated specialists. Also, they have asked their inhouse staff to work remotely.
As a result of the pandemic, a viable way to overcome these challenges is to accelerate digital strategies to help improve flexibility and stay attractive to investors.
Digital Technologies for Oil and Gas Industry
Wherever we look nowadays, we hear the buzz word 'digitalization'. Digitalization is the key empowering influence for operational excellence. Intelligent automation isn't just the deployment of digital tools. It's the smart blend of a talented workforce and connected technologies to pave innovative digital routes to growth.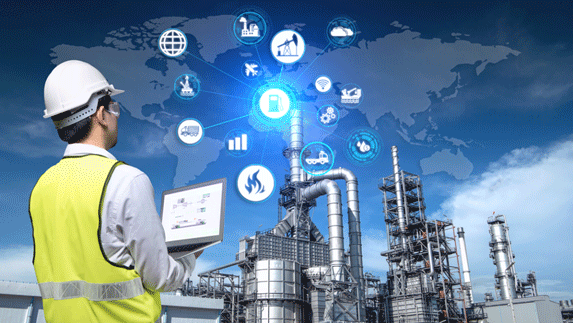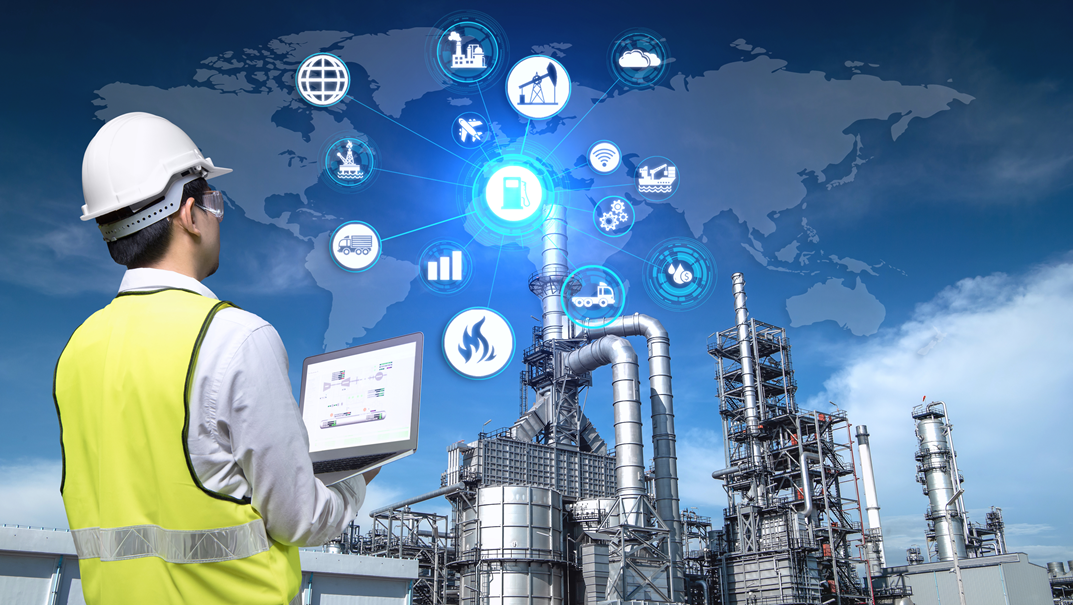 "75% of the oil and gas companies they surveyed are already implementing robotic process automation and 87% are using advanced analytics. 70% said they planned to implement IIoT in the next 18 months." – Ernst and Young
The advancement of technologies such as digital twins and threads, machine learning, AI cloud solutions, are considered as the pillars of Industry 4.0. They guarantee more noteworthy IT/OT convergence, making the Industrial Internet of Things (IIoT) a reality for operators.
The Oil & Gas industry is getting on the path towards Industry 4.0. Industry 4.0 carries with it the advanced innovation and procedures needed to transform industries around the world. These digital technologies bring the level of intelligence required for businesses to align business processes, streamline maintenance techniques, and increase efficiency for the maximum ROI.
The Strong Pillars of Industry 4.0
For industry 4.0 to succeed, businesses need connected technologies, machines, and frameworks to drive deep insights across their production processes, networks, and manufacturing supply chains. But with so many technologies available nowadays, it's hard to decide where, when, and how to get started with a digital strategy for industry 4.0.
Let's check out a few…
Digital Twins
"Half of all major industrial companies will be using digital twins by 2021, potentially increasing their operational effectiveness by 10%."
The ongoing advances in digital twin technology are getting significant as it makes an enduring competing advantage for those industries who embrace it. Digital twins are implementing Oil and Gas operators with tools, for example, networking of multiple systems, sensors, and analytical models, to update planning and operational standards. They deliver new oilfield insights by utilizing big data to decrease operating costs, accelerate production, and settle on better decisions.
Predictive Analytics & Machine Learning
The Oil and Gas organizations need to consider key undertaking conditions, priorities, and imperatives for decision-making. Consequently, the predictive analytics and machine learning model selects an ideal situation for the current pandemic situation. Predictive analytics and ML can improve the execution and establishment of projects for smarter asset planning.
Offshore Oil and Gas enterprises can use ML systems to run simulations using predictive data models. ML can be used to survey the possible effects of a new rig or to assess the environmental risks before any solid plans have been put into action.
Artificial Intelligence
"The value of AI in the oil and gas industry will increase from $1.57 billion in 2017 to $2.85 billion by 2022."
The Oil and Gas sector may not generally be considered as an AI innovator, however, seeing the above report, perceptions are soon to change. Today cloud-based AI platforms are being developed to analyze data in real-time, providing quicker and accurate modeling of recently discovered and established oil deposits.
Oil and Gas industries can guarantee the safety of work sites during critical circumstances, for example, gas leakage. AI-controlled robots or drones can help make informed decisions about moderation strategies, inspect pipelines, and record real-time footage to identify leakage or cracks in the pipelines.
IIoT
You would have heard a ton about the concept of IoT. An environment where the sensors can function freely and interact with every other element is known as IoT. Industrial IoT is quite similar but developed more strength to survive in the brutal conditions of the Industry.
Industrial IoT can bridge the gap between operations-related and data technology. This allows machine-generated, voluminous, and unstructured data to analyze insights that drive improvements in design and execution, leading to smarter, faster decision-making, and M2M communications. The reduced maintenance cost, real-time monitoring, and greater security of assets lead to higher productivity.
Final Thoughts
The start of the digital transformation in the Oil and Gas industry can be a daunting task. Yet, it is helping the Oil and Gas businesses to lower down expenses, settle on quicker and better decisions, and enhance employee productivity. For many Oil and Gas businesses, it is a big challenge to transform digital ability into a huge success.
So, before embarking on digital transformation, it is imperative to understand that digital transformation isn't just about adapting to digital technology. It is about a difference in the hierarchical structure with a significant impact on individuals, procedures, and infrastructures across various offices, technologies, and equipment. Businesses need to understand the challenges in order to make the best use of digital technologies and take your business to a higher level.
Want to explore the value of digital transformation for your Oil & Gas industry? Our expert will help you to embrace a new business mindset with advanced digital skills for a successful business.