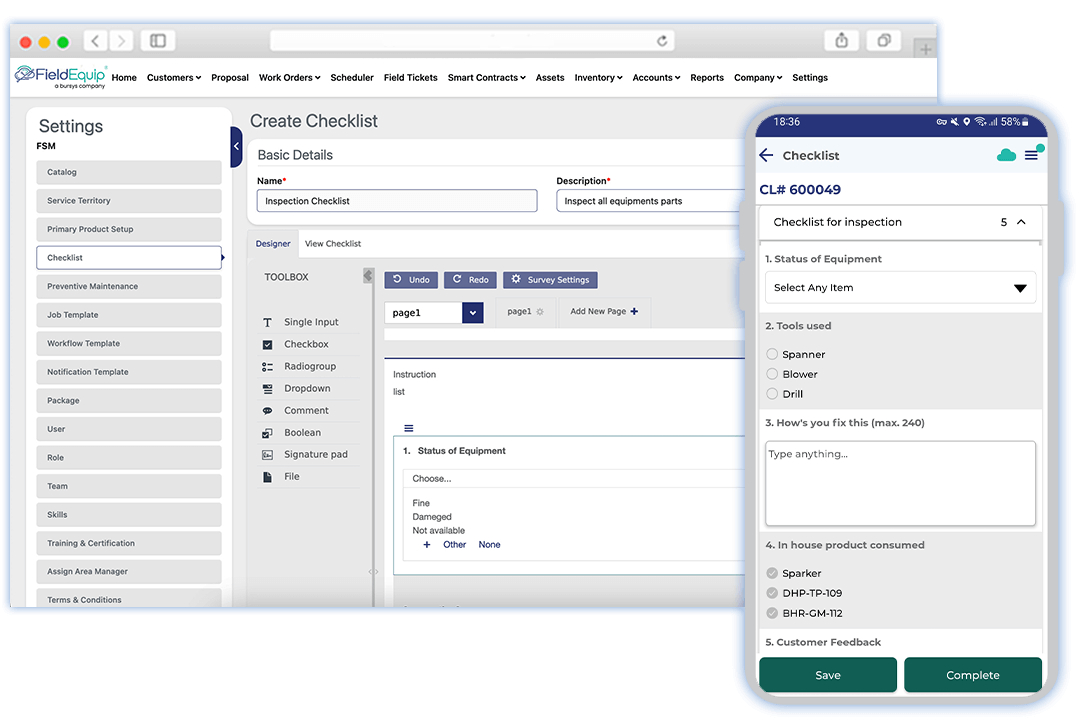 Sort Parts Inspection Management with FieldEquip Field Service Management
Field Service Inspection Software for Custom Checklist and Tasks list
Field Service Inspection Software ensures that you are always aware of the health of the parts stored in the inventory, at the customer's site, or even in the transition. FieldEquip's parts inspection management software is a powerful tool that helps organizations avoid complex field operations. The software lets users stay updated about expiration dates and renewal dates of their parts, tools, equipment, and other assets. FieldEquip allows users to create and manage asset and part inspection checklists easily.  
FieldEquip's field service inspection software and the platform's powerful parts inspection management capabilities help streamline field service operations. It offers custom checklists that allow technicians to ensure consistency and standardization in the quality of parts and equipment. It will enable them to monitor all the parts' expiration easily, and renewal dates across inventories for optimal inventory management and to avoid any unexpected downtime caused by expired parts or machine usage. 
FieldEquip's mobile field service app allows field technicians to capture information, pictures quickly, and notes related to the parts in the warehouse, in transition, at the customer site or inventory online and offline. They get real-time visibility into the quality of parts in the stock and being used by the customers, ensuring proactive corrective actions in case of potential emergencies. 
Inspection Management made easy with intuitive Drag and Drop builder on FieldEquip Mobile App