In today's digital age, your field service business is only as strong as the technology it provides your technicians. Innovative field service applications can help you save money, improve efficiency, and provide a higher level of service that will have customers coming back for more. How can a mobile app do all of that? The right field service mobile application puts all of the information a technician needs into their pocket. Let's take a closer look at what it means to have a mobile app that works and helps support your field service personnel.
Diverse Functionality and App Capability
One of the primary benefits of mobile field service apps is that they allow technicians to be more self-sufficient. Many systems provide a mobile app that barely extends beyond the ERP (enterprise resource planning) systems used for manufacturing. These applications can help plan resources, manage requirements, and secure materials for your projects. However, they do not always provide the necessary guidelines for sustaining and maintaining machines.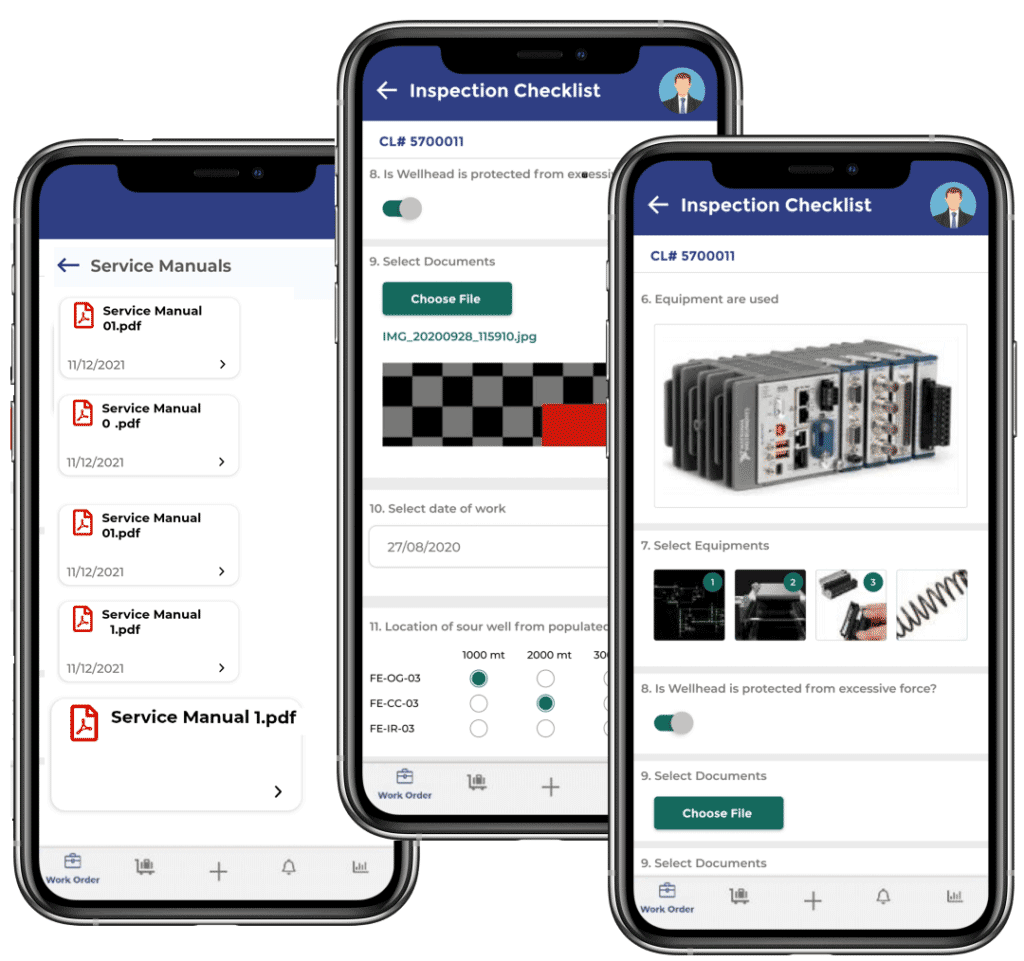 Mobile field service management, on the other hand, is designed to sustain and manage a product. It continuously tracks the performance of the product, manages workflows, and maintains work orders—allowing technicians to service assets or products efficiently and effectively. At the click of a button, they can:
1) View parts catalogs
2) Access service manuals
3) Review equipment specifications and diagrams
And so much more.
Another diverse and useful tool for field service professionals is checklists. Whether they are completing a service, installation, repair, or inspection—technicians have to follow a set of instructions in sequence.
Mobile field service checklists can help ensure these processes and procedures are done correctly—so the technicians do not miss a single step.
Full Visibility: Improving Your Business Processes
Every minute technician, customer, or executive spends searching for information is a missed opportunity for your business. Mobile apps offer a multi-faceted solution by maintaining full transparency and visibility.
Visibility for Technicians
Your field service mobile app is designed to offer visibility for your technicians. The app is preloaded with information about each customer before your technician arrives on the job site. This transparency gives technicians visibility into the history of the account, equipment history, diagnostics, how many people have worked on the problem, and so much more. The application will even provide information on how to fix various issues the equipment may be experiencing.
At the end of the service visit, the technician can add new insights into the app that only other technicians can see. This process will save your business time in the future as it reduces repeated service mishaps. Additionally, technicians can use this platform to optimize the client experience by including customer details and improving the quality of the service provided.
Visibility for Customers
It can be challenging to bridge communication gaps between your customers and your technicians. Customer portals extend this full visibility to your clients. Self-service portals give customers instant access to service history details, account documents, and so much more. With enhanced visibility, you can ensure happy customers and repeat business.
Visibility for Your Business
Using the mobile application, you can keep tabs on your business. GPS tracking shows where all of your resources, customers, and technicians are on the map in real-time. Comprehensive transparency can help you cut down on transportation costs, tailor scheduling to your technicians' skill sets, and avoid unnecessary waste.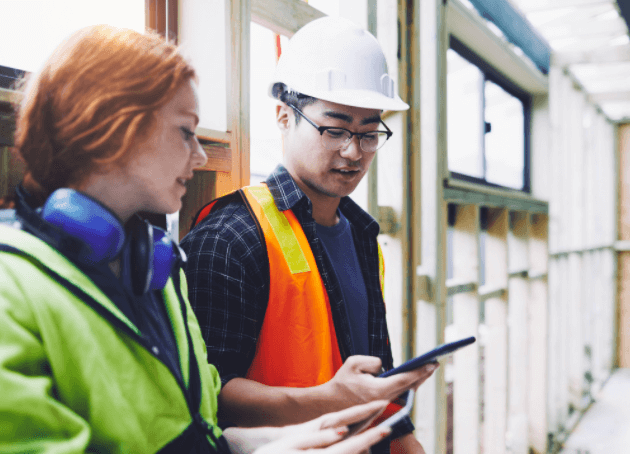 Optimizing App User Experience for Field Service Technicians
Field service is a fast-paced industry, and technicians are often used to using their hands rather than relying on technology. To support field service technicians, your app interface needs to be fast, synthesized, and intuitive. Let's take a look at how these app features can improve your field service user experience:
1) Fast and Responsive Field Service Applications
Responsive applications work on two fronts to save your technicians time: avoiding unnecessary groundwork and preventing tech delays.
Avoiding Unnecessary Groundwork: The full visibility mentioned above helps them avoid unnecessary groundwork on each project. This feature saves technicians time on job preparation by giving them the upfront insight they need for success.
Preventing Tech Delays: Slow apps can retract from technician productivity rather than improve it. When you partner with a fast and responsive field service app, your technicians can improve their efficiency without being slowed down by outdated technology.
Together, these benefits allow personnel to complete more service calls in a day. As an added benefit, this also allows you to provide your customers with quick repairs and less machinery downtime.
2) Synthesized Technology
Applications can take technicians step-by-step through different approval, inspection, and service processes. When done properly, this can eliminate errors and oversights while improving productivity. However, it is essential to partner with a field service app tailored to the minimum number of steps a technician needs to complete a task. Synthesized technology gives your customers all of the resources they need—and nothing they don't.
3) Intuitive App Interface
Naturally, applications are supposed to make a technician's job quicker and easier. However, complicated interfaces can make your field service personnel work harder to overcome these challenges. An app designed for field service intuition can sidestep this potential challenge. Let's take a look at some examples of intuitive interfaces:
If a technician needs a part, they simply need to type in the part number. The app will generate a map of all the available parts—whether they be in the warehouse, storefront, or even another technician's nearby truck.
The mobile app will give technicians direction to a customer if they have never been before.
To save a technician time, the app can send the customer a message with their estimated ETA to provide enhanced customer service. Or, for more job flexibility, technicians can also override this feature.
Every detail of the application is made to accommodate the tech's unique needs. Collectively, modern mobile applications can provide more functionality to field technicians at the click of a button.
Shortening Service to Cash Cycles
Field service businesses have to invest money in each job—for technicians, tools, and equipment—before getting paid. The service to cash cycle defines how long it takes for that money to circle back into your pockets. Mobile apps can help shorten this cycle by improving the accuracy and efficiency of your administrative processes:
1) Information accuracy: Applications make it easy for technicians to capture all of the necessary information with precise accuracy—enabling faster billing back to the customer.
2) Clean service orders: Traditional forms present risks of illegible handwriting, lost or damaged paper, and informational confusion. With clean service orders, technicians can avoid work delays, repeated visits, and errors on the job site.
3) Ease of access: Mobile applications make essential information easily available for technicians. This includes service history, job site address, inventory availability, and so much more. Technicians have the information and insight they need to do a job correctly at their fingertips at all times.
4) Improved invoicing: Collectively, the benefits of mobile applications help your business avoid disputes on payment and invoices.
5) Avoiding errors: With a mobile application, the system will catch issues that a technician may miss. For example, if a technician writes off or charges a part they didn't have, the system will catch this error before it becomes a costly mistake.
6) Instant customer approval: At the end of your work order, your customer will sign off on your service directly on your technician's mobile app. This convenient step of the process can eliminate invoice disputes that could delay payment, as your work is pre-approved by the customer.
Ultimately, a mobile application minimizes the DSO (Days Sales Outstanding) for your business—effectively improving your service to cash cycle. By unlocking your business's cash flow, you access financial stability and the resources you need to invest in further business growth.
FieldEquip: Your Field Service Mobile App
Mobile apps can help make field service technicians more efficient and accurate in their work—improving your overall business performance. However, you will need to have the right field service app on your side. This is where FieldEquip comes in. Our mobile field service app provides all of this functionality and more for your technicians. See it for yourself with a free demo from our experts today!