Integration: A Key Pillar
Next-gen field service workforce management solutions streamline operations by integrating different tools, reducing manual tasks, and breaking down data barriers. This means less hassle and helps work smarter. Plus, they give real-time information gathered by combining work orders, technician locations, and equipment status, empowering organizations to make smarter decisions, troubleshoot quickly, and respond swiftly to changes, ultimately leading to improved overall efficiency.
How FieldEquip specifically contributes to this key pillar of next-gen field force management solution?
FieldEquip significantly contributes to the key pillars of next-gen field force management solution through its innovative technology and capabilities, which include:
FieldEquip helps enterprises transition from paper-based workflows to digital processes, increasing productivity and accuracy in operations such as work orders, documentation, and reporting.
FieldEquip monitors and manages field based workforce, assets, and equipment in real time, giving organizations a comprehensive picture of ongoing operations, resource usage, and possible bottlenecks.
Mobile Workforce Empowerment
FieldEquip equips field technicians with mobile applications that streamline job assignment, data collection, collaboration, and communication, improving their productivity and effectiveness.
FieldEquip gives organizations the ability to manage assets and equipment proactively via preventive maintenance, decreasing downtime, optimizing maintenance schedules, and extending the life of your irreplaceable resources.
Integration with Enterprise Systems
FieldEquip easily integrates with existing enterprise systems like ERP, CRM, accounting and inventory management to ensure data consistency, improve decision-making, and enable end-to-end process optimization.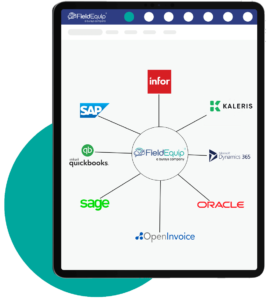 FieldEquip improves field resource scheduling, routing, and allocation, resulting in efficient task assignment, and increased operational effectiveness.
FieldEquip offers remote support capabilities, enabling field workers to access expert guidance, troubleshooting, and information in real-time, leading to faster issue resolution and higher first-time fix rates.