Why should chemical companies invest in chemical inventory management system?
Chemical inventory management systems have emerged as a transformative tool for businesses in the chemical industry. By adopting the advanced capabilities of a chemical management software, companies can streamline their operations, enhance safety, and achieve regulatory compliance. 
Here's how chemical inventory management systems help businesses transform and thrive:
Efficient inventory tracking:
A chemical inventory management software offers real-time visibility into inventory levels, locations, and usage, which helps businesses optimize their stock management, minimize wastage, and reduce carrying costs. Automated tracking and alerts ensure accurate inventory data, enabling timely replenishment and preventing stockouts.
Enhanced safety and compliance:
Chemical inventory management systems facilitate adherence to safety regulations and compliance with industry standards. They provide features for tracking hazardous materials, managing safety data sheets (SDS), and generating regulatory reports, ensuring a safe working environment, and avoiding penalties.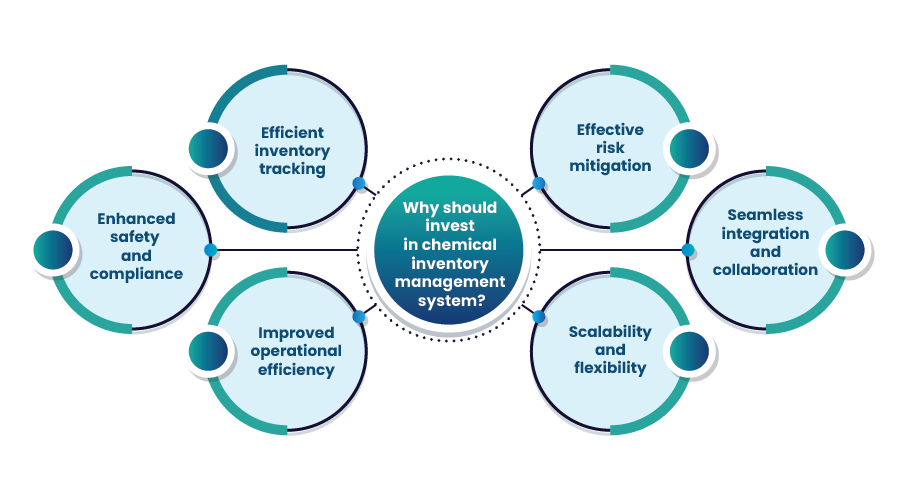 Improved operational efficiency:
By automating manual processes, such as data entry, recordkeeping, and report generation, chemical inventory management systems streamline workflows. This eliminates errors, reduces administrative burden, and allows employees to focus on higher-value tasks, enhancing overall operational efficiency.
Effective risk mitigation:
Chemical inventory management systems enable businesses to track and manage chemicals with specific handling requirements. They provide alerts for expiration dates, monitor storage conditions, and facilitate proper disposal, minimizing the risk of accidents, spills, and environmental hazards.
Seamless integration and collaboration:
Chemical inventory management systems can integrate with other business software, such as ERP systems or laboratory management systems, ensuring seamless data flow across departments. This promotes collaboration, facilitates efficient workflows, and enhances cross-functional visibility.
Scalability and flexibility:
As businesses grow and evolve, chemical inventory management systems can scale to accommodate changing needs. They offer customizable features, easily adapt to new regulations, and support expansion into new markets, providing the flexibility required for long-term growth.